Technical Data of Oil Well Drilling Glass Beads

We recommend 2 sizes for this purpose, 50-80mesh, and 100-170mesh.
Appearance: Clean and transparent, no visible bubbles and impurity.

Specific gravity:2.4-2.6g/cm3

Hardness:6-7

Compressive strength:>1200N
The Advantage of Oil Well Drilling Glass Beads
1. With rich producing experience, the oil well drilling glass beads quality can control by adjusting the furnace temperature, the induced draft fan, and cooling water, so our product roundness is very high, and the glass beads appearance is clear without bubble.
2. The chemical nature of the oil well drilling glass beads is inert and non-toxic. During use, no iron or other harmful substances remain on the surface of the workpiece, nor will it adversely affect the surrounding environment.
3. We worked with the glass factory, and choose the best raw material, it will give a promise on quality from resources.
4. It has good chemical stability and will not pollute the processed metal;
5. The surface is smooth, has a good finish, does not damage the mechanical precision of the workpiece;
6. The rounding rate is high and there is no impurity. Its testing methods are advanced, the product quality is superior, and it meets the requirements of international and domestic standards.
The Production Process of Blasting Glass Beads for Metal Cleaning and Polishing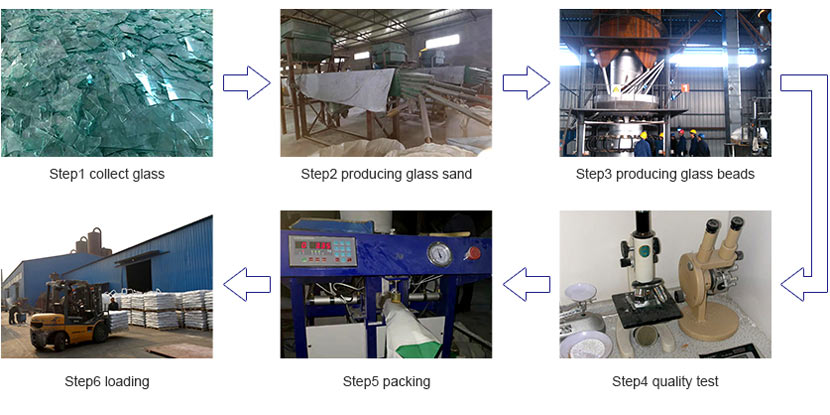 Other Notes of Oil Well Drilling Glass Beads
1. Keep in dry condition, no moisture
2. Package: 25kgs bags(PP/paper), or jumbo bag, with pallet.