Overview EN1424 Glass Beads for Thermoplastic Road Marking
EN1424 Glass Beads is used for the manufacturing process of hot-melt road marking thermoplastic paint. Further, these micro glass beads are specially coated for durability and reflectivity even after wear and tear of the road marking line.

Road reflective glass beads are a kind of fine glass sphere formed by melting glass sand (waste glass) at high temperatures. It is spherical under the microscope, colorless, transparent, and the refractive index is 1.5-2.2. Between 44 and 1400 microns in diameter
Glass beads for road marking play a necessary part in traffic safety because of their retro-reflective properties. This property lets in the motorist to truly see the pavement line markings greater truly at night and in moist conditions. When a car's headlight beam shines on a pavement marking that is integrated-embedded-saturated with glass beads, the line stripes light up and come to be plenty less complicated to see at night. This effect is called the retro-reflection.
The Details of EN1424 Glass Beads for Traffic Road Marking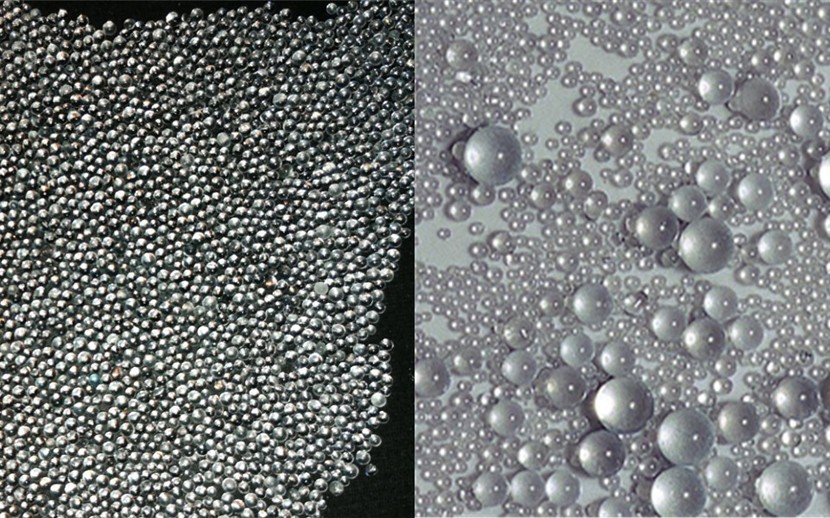 The Advantage of EN1424 Glass Beads
1. High roundness
2. Clear glass material
3. RI>1.5
4. 24 hours of quality control
5. Advance test lab
6. Competitive price
The Specification of EN1424 Glass Beads for Road Marking
| | |
| --- | --- |
| Diameter (μm) | Standard (%) |
| 710 | 0~2 |
| 600 | 0~10 |
| 355 | 30~70 |
| 212 | 70~100 |
| 125 | 95~100 |
The Application of EN1424 Glass Beads for Paint
1. glass beads for thermoplastic road marking paint
2. glass beads for airfield markings
3. glass beads for playground markings
The Production Process of EN1424 Glass Beads

1. Keep in dry condition, no moisture
2. Package: 25kgs bags(PP/paper), or jumbo bag, with pallet.